Oiseaux Sisters workshop, summer 2011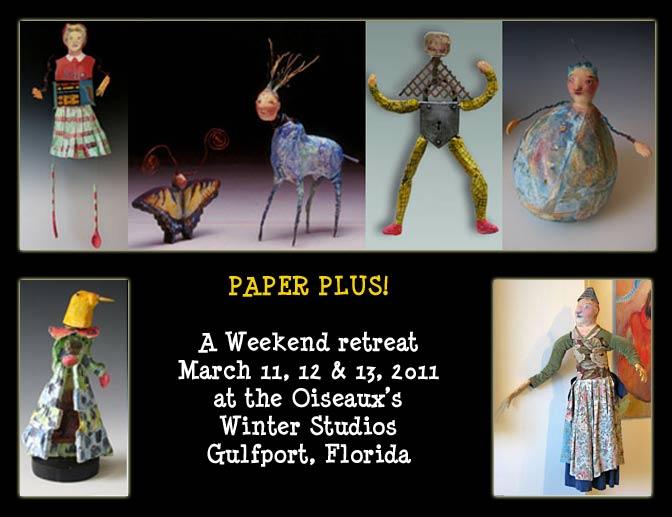 Join us at Oiseaux South, our Gulfport studio for a weekend of mixed media papier mache play.
Beloved of window dressers, costumers, set designers, party planners, and puppeteers, Papier Maché is a versatile, low tech, affordable, and simple way to capture a form, a shape, a figure. We have streamlined the process and made it archival. Maché is an ideal way to experiment with jumping scale
and we will encourage participants to try working in a variety of sizes, from tiny to larger than life.
Limited to only 10 participants, beginners and serious artists alike will find approaches to energize and expand their work.
FEE: $285/weekend (Includes slide talk on Friday, lunches & snacks on Sat. & Sun and some studio supplies)
TO REGISTER and GET MORE INFORMATION: www.oiseauxsisters.com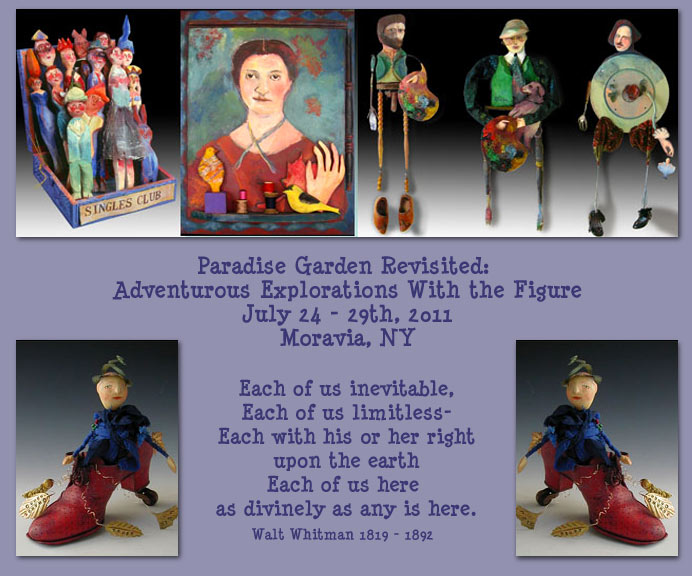 SUMMER ART RETREAT IN MORAVIA, NEW YORK
Paradise Garden Revisited:
Adventurous Explorations With The Figure
July 24 – 29, 2011*
A week of mixed media play in our Moravia NY studios
Drop down the rabbit hole and come up in Paradise Garden. Adam & Eve, Toto and the Wicked Witch, Emily D.  and dear departed Aunt Gertrude all await you, anticipating consideration, commemoration, celebration. This is a week with a mix of media, working large and small, solo and collaboratively to craft objects that tell someone's story. We will work sometimes with memoir and history, sometimes with apocrypha, but always within that delicious tension between intention and execution as we savor all the uncertainties and risks inherent in the creative process.
$720 includes lab fee, 5 extravagant, healthy lunches, 2 sumptuous dinners, and daily lavish snacks.
*Special bonus: Session ends just in time for the Route 90 weekend of 50 miles of garage sales!
Registration and Deposit: Enrollment is limited in both sessions and early registration is recommended. A $150 deposit must accompany your registration. Your entire deposit will be applied toward tuition. Balance is due when you arrive for class.
TO REGISTER and GET MORE INFORMATION: www.oiseauxsisters.com
Tags: assemblage, dolls
---
Share this article:
---